The 2022 end-of-year holiday season is well underway: NRF reported that a record-breaking 196.7 million US shoppers showed up both online and in store during the shopping period from Thanksgiving Day to Cyber Monday (November 24 to 28).
To get a better sense of what retailers did online on Black Friday and Cyber Monday, we reviewed 115 retailer and brand home pages, which span several product categories. Among other highlights, we found that:
Overall retailer participation was high, but value was mixed. Similar to previous years, nearly all retail sites we reviewed had some form of promotion. This year, 90% offered discounts on both Black Friday and Cyber Monday (see figure). Just one in five, however, had a sitewide sale, and fewer than one in 10 offered free shipping as a promotion (Note: This number excludes those that offer free shipping year-round). Instead, many offered sales on select product categories or ran additional promotions on their already-discounted sales sections.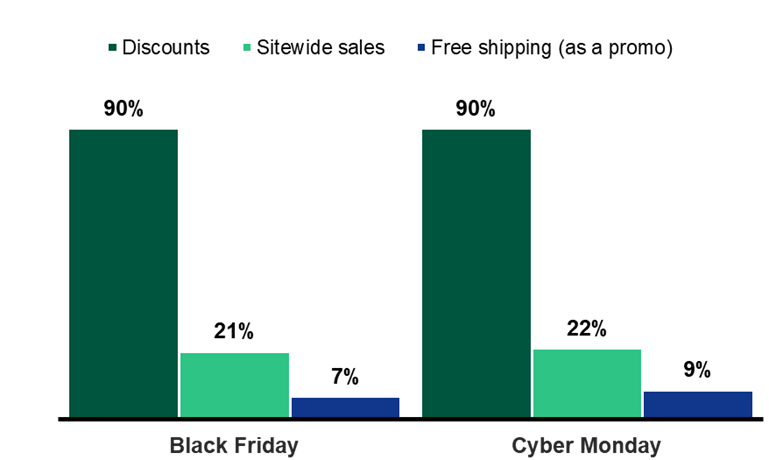 Source: Forrester's review of 115 retailers and brands on Black Friday and Cyber Monday 2022
Retailers experimented with offers throughout the period. Some retailers kept their discounts consistent throughout the weekend, while others opted for some variation. Clinique and J.Crew offered sitewide sales on Black Friday but presented category-specific discounts and offers on Cyber Monday. By contrast, Barnes & Noble, Big Lots, and UNTUCKit waited until Monday to reveal their sitewide offers. Nespresso offered a free tote bag and chocolates with coffee pod purchases on Friday and added 30% off coffee machines for Cyber Week. Others offered sitewide deals both days but adjusted the discount. Brooks Brothers threw an extra 10% off an entire order on Cyber Monday on top of its 30% sitewide sale still running from Friday. Michaels upped its 20% sitewide discount to 40%.
Many free shipping offers had caveats. Few retailers reviewed offered free shipping as a promotion on Black Friday (7%) or Cyber Monday (9%). Yet 75% of US online adults say that free shipping is influential in determining which retailer they'll purchase a product from online, per Forrester's Retail Benchmark Recontact Survey, 2022. Still, many retailers required customers to reach a minimum order threshold to unlock holiday shipping perks. For example, Bed Bath & Beyond offered free same-day delivery for orders over $39.
Stay tuned for more posts from our holiday-prep blog series. And if you have any holiday-related questions, Forrester clients, my fellow analysts and I are happy to speak with you via inquiry. Wishing you a very successful end-of-year holiday season!